About me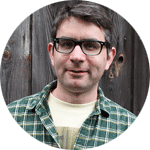 I've been a professional designer for over fifteen years, and along the way have gathered a huge amount of experience working both in print and online. Prior to this commercial experience, I completed a degree in Typography & Graphic Communication at the University of Reading.
I pride myself on an exceptional attention to detail, a pragmatic approach to solving design problems, and an eagerness to work closely with clients, in order to get results that regularly exceed expectations.
What I can do
I have a wealth of knowledge and expertise in website design and construction, print design, editorial design, graphic design, logo design, illustration and copywriting. I can offer consultancy and a hands-on skillset that includes Drupal, WordPress, HTML, CSS, PHP, JavaScript/jQuery, standards-compliant web design and SEO. I've worked on enterprise-level websites and created packaging for small-run record releases, and everything in between – all with the same eye for detail and attention to quality.
I put good design at the heart of everything I do, and fundamentally believe that it's one of the most important factors in any product, magazine or website.
Get in touch
I'd love to hear from you. Contact me here!